So these past few days I've been in a sour mood. Combined with the fact that I've been wanting to do a post about the emo/scene fashion for a while, I figured now was the best possible time to write a post. Some background on my feelings about scene fashion include the following facts:
1. Scene is the most interesting style I've ever come across.
2. Scene fashion almost depresses me because the cutesy type of scene reminds me so much of childhood. Cutesy scene is the style of scene where the person is a blend of adorable (Hello Kitty, bows, tutus, etc.) and colorful with minimal piercings.
So onto the show!
I love the animal print leggings and the hot pink studded cheetah print purse worn by the girl on the left. The colorful bracelets she's wearing are so cute!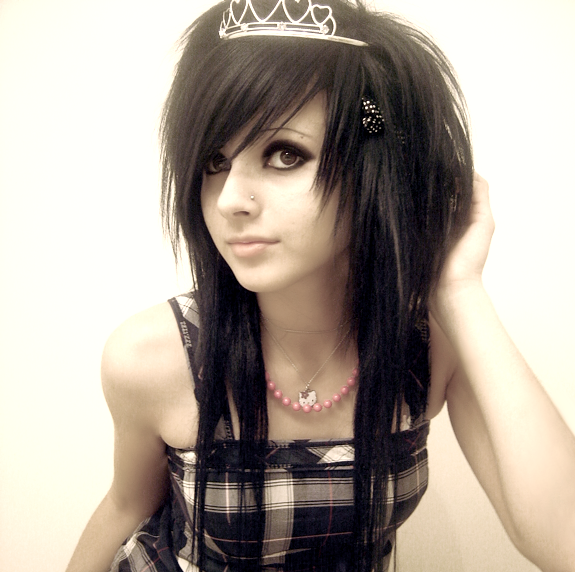 I love everything about this outfit! From the purple plaid top to the ADORABLE Hello Kitty necklace and faux pink pearls, I'm in love. Add in the tiara and glam hair bow, and you've got me itching to take this look and make it my own.
My favorite part about this picture is the over-sized chain necklace with the leopard print heart. So cute!
Each outfit in this picture is awesome. I adore how each girl made the style their own. The first going for more of a glam look with the metallic top and layered accessories, the second for a more laid-back and edgy look with torn jeans and colorful matching tights and shirt, and finally the more fashionable third girl with beautiful torn holy tights and a stunning buttercup button-up blouse with black shorts.
And this photo pretty much sums up scene aspects. Torn tights, neon colors, Chucks, glam jewelry...
What do you guys think about the scene style? Keep it or trash it? Anything you like or dislike about it? Leave your thoughts in a comment below. =)