I'm sure many of you have heard "Hook Me Up" by The Veronicas. My boyfriend is the reason why I enjoy their music and because of him, I have the inspiration to start a new chapter in my life and you guys have a new post full of sarcasm and unbridled joy to make your day. Oh, yes, my boyfriend listens to The Veronicas. No, he doesn't hide that fact. And yes, he listens to Abba, as well. Sigh. People are so picky about men these days…
The meaning of this song can be debated as you wish, but I think this is one of the few songs off the album that isn't brimming with sexual energy. Although, it can be argued that the music video contains what the lyrics are lacking.
Now, mind you, the first verse is really the only important one to this post, which is about starting over at a point in life when people, possessions, and lifestyle become tiresome and lack the true representation of the person.
I reached this point roughly one week and four days ago. During the past week, I've essentially felt like the first verse of the song:
"I'm tired of my life.
I feel so in between.
I'm sick of all my friends.
Girls can be so mean.
I feeling like throwing out
everything I wear.
Starting over new
'cause I'm not even there."
So I took the advice of the song and cleared out my wardrobe, deciding I'd toss everything I won't wear or look terrible in, and anything that I feel doesn't represent the person I want to be. I donate to second-hand and thrift stores like Good Will and Amvets about four times a year. Essentially, any time I plan to go shopping there, I bring something to donate. This will be my fourth donation of 2010.
I've been hoarding clothing for the last, oh, decade, saying, "One day I'll wear that," and, "I'll find something to make with this," and of course I could never fit into anything under the first excuse and I wasn't creative enough to follow the second one. I've been slowly cleaning out my wardrobe and one week and four days ago, I was almost to the point where I had completely rid myself of clothing I wouldn't wear and since January I've donated roughly ten bags of excellent condition goodies.
Please let me clarify something. It may sound like this whole "cleaning out my closet" deal is easy, but it's not. I have this problem where I'll buy something I know I WILL wear, that I love the fit of, and that flatters me, and I'll pull it out at home to wear and see myself in the mirror. The moment I make eye contact with my mirror self, I hate the outfit or piece of clothing I purchased. So for me, it's especially difficult to reasonably decide what I will and will not keep. The way I see myself isn't usually how others see me, so while I'm at the store, I think I look good, but as soon as I leave it's like the negativity around me weighs me down and makes me as ugly as the media tells me I am. For example:
Hence where "Hook Me Up" comes in. I heard the song and admitted how sick I was of my habits, of listening to what the media told me I was and allowing myself to fall under the negativity of ignorant people around me. So what if I'm not 5'8" and 110 pounds? I'm not proud to be overweight, but the only reason I should have to lose weight is because of my health, not because of some demented reasoning that I should look good for people I don't know. There's a difference between making a good impression and having to be thin in order to be attractive. I'm beautiful with my flaws, whether anyone else likes it or not.
So I went to JC Penney twice in the last week and I brought with me a new sense of strength and a list of items I liked that I would buy if I could find them. Among those items was a black cardigan with optional pockets, which I found, and a pair of dark plaid shorts, which I found with a matching black shirt and a matching yellow ruffle shirt. I wasn't crazy about how plain the black shirt was so I added some bronze diamond-shaped embellishments to the shoulders when I came home.
I found some great items, and here are a few pictures of a handful of outfits I absolutely adore and WILL wear, no matter how big my thighs look or how much my love handles poke out: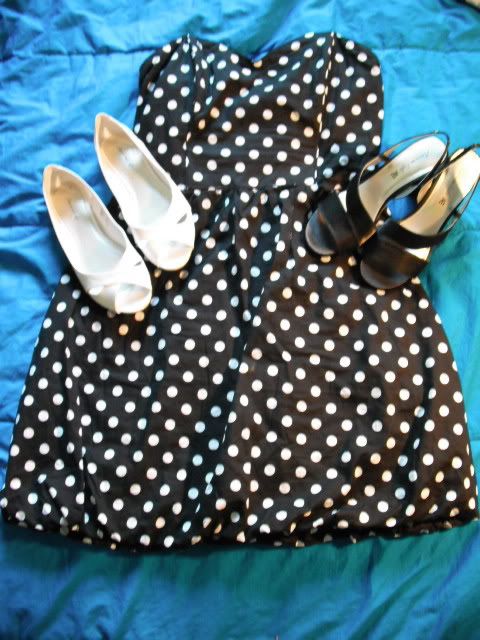 This polka dot beauty is from Target. I love how the bodice is fitted before the bubble skirt flares out. It looks fantastic on me and because the back is shirred, I can get an amazing fit around my bust and waist. It pairs with my white patent leather flats or my black silk heels.
The purple leopard print shirt is from JC Penney, the shorts are from Kohl's, the belt is from Target, and the AirWalks are from Payless Shoes. I like how loose the shirt is, and that I can wear it with and without the belt and still look good both ways. It's so comfortable which is ideal on these warm days.
I found this awesome braided neckline top at Amvets for a few dollars, and paired with the belt from Target, I have an amazing fit. The silver paste sandals are from Payless Shoes and the skinny jeans are also from Amvets. This is such a laid back outfit and I adore it!
Another JC Penney find, this blue animal print tank is loose and comfy when paired with the belt from Target or left by itself. I love how it looks with my shorts from Kohl's and the black gladiator sandals from Payless Shoes. It's so casual but fashionable and it just looks so cool, period.
I have about three "matches with all pieces" items, eleven "individual" pieces (five of which are dresses), and two "matches with specific things" items. I plan to keep shopping around for more pieces because while I can match what I have in many ways, I don't have enough clothes to be able to wear something different each day of the week.
Hm, after reading this over I've realized it's a tad too long, so I'll leave you all with a quick closet organization tip and pick this up again later.
Closet Organization Tip #1: The Dollar Tree sells clear snap-lid containers that you can use to store everything from socks and underwear to shoes and belts. Invest in some. They easily fit in drawers and on shelves. Or, for you DIYers, give a go at Cat Morley's Drawer Organizer Box. Tutorial located here.